This is probably the most expensive thing on my wishlist this year and I honestly never thought I'll get it. Actually, when I was about to checkout this item and pay for it using papa's credit card, I was had second thoughts. My exact thought was, "Should I buy a PMD which costs almost $200 or should I just use that to shop at MAC's website?". With that amount of money, I could've bought myself a MAC-filled Christmas and I would be perfectly happy with that!
So I went around asking my close girl friends (looking for enlightenment LOL!) and one said to me, "MAC could cover your flaws and make you look pretty for hours and it would prolly last for a year or two BUT a flawless skin *with the use of PMD* would make you look good all the time plus, it could be used for an indefinite period of time".
And with just that, I was sold. Jasmine, my friend, was right. I want to be naturally pretty — always!
I logged on my PMD account and bought the device without a shadow of doubt. 🙂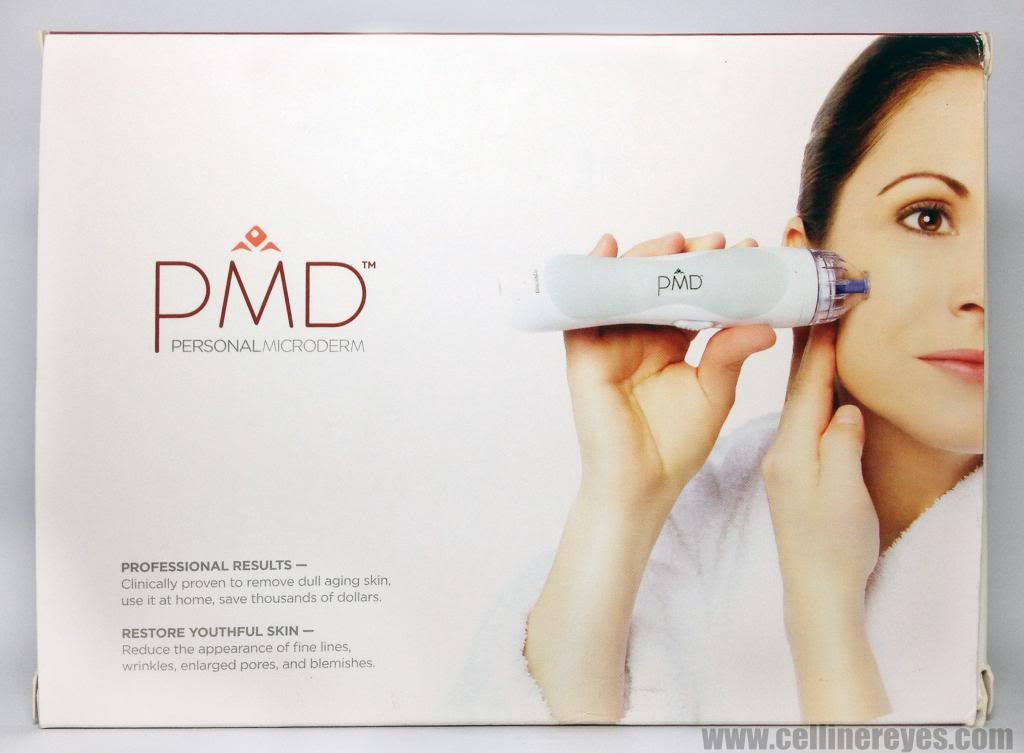 Info taken from PMD's Official Website
The (PMD) Personal Microderm is an at-home microdermabrasion device that uses Aluminum Oxide Crystals and a vacuum suction to smooth away dead skin cells and literally uncover younger skin. When used just once a week, the PMD will minimize the appearance of fine lines, wrinkles, age spots, hyperpigmentation and blemishes for a vibrant, youthful complexion.
Microdermabrasion is a noninvasive form of exfoliation and mild skin resurfacing that removes the dead skin cells from the Stratum Corneum, the outer most layer of the skin. The Stratum Corneum is the layer of the skin affected by fine lines, wrinkles, blemishes, acne, and scaring. The concentrated microdermabrasion treatment exfoliates this skin layer to break apart these common imperfections. This then triggers the body's healing mechanisms, causing the removed dead skin cells to be rapidly replaced with healthy, new ones.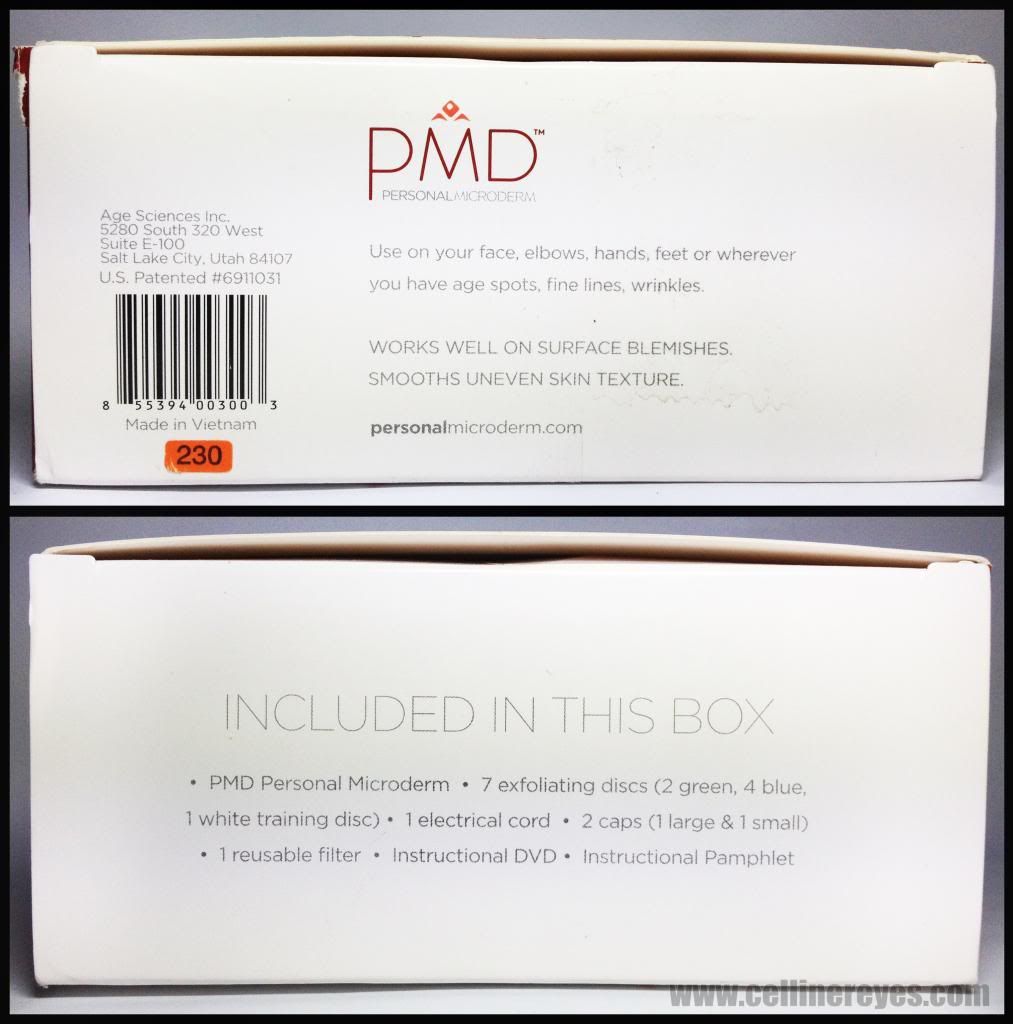 In a nutshell, the PMD treatment would remove the dull and rough layer of the skin which is obviously the upper most layer that is always exposed to dirt and the sun. By removing this part of the skin, it also removes the imperfections that are formed on that layer. This includes the wrinkles, fine lines, pimple marks, age spots, blemishes and whatnot. Once this layer of dead skin cells are out of the way, our body will naturally create a new layer. Thus promoting new collagen growth and cell renewal.
As a result, say hello to newer and younger looking skin!
Well, that's the plan, ideally. Let's just hope it delivers. 🙂
THE SYSTEM INCLUDES:
1 personal microderm
7 exfoliating discs (1 white training, 2 green and 4 blue)
1 electric cord
1 facial cap
1 body cap
1 reusable filter
Instructional CD and Pamphlet.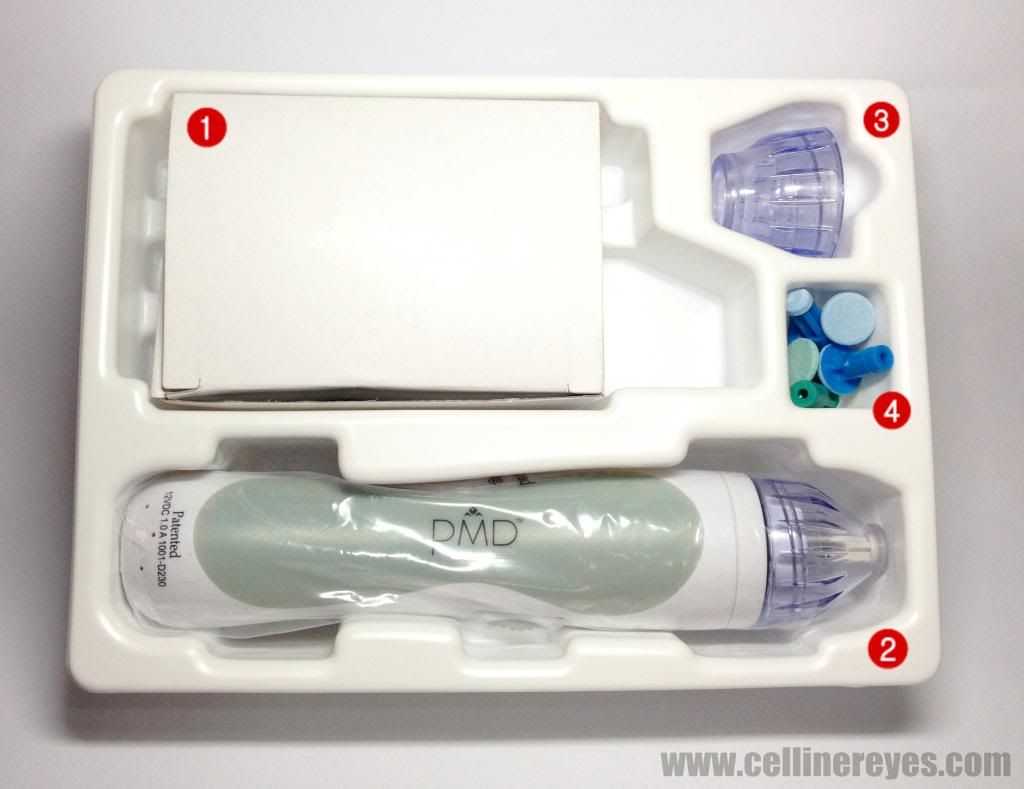 With this kind of advance skin device, I can't emphasize enough how vital it is to watch the instructional CD and go over the manual first before attempting to use the device. It looks rather simple to use but like me, do take the extra time to actually read and understand the device to prevent accidents.
IMPORTANT NOTE TO USERS OUTSIDE US or CANADA: The default unit for PMD is 110 volt power supply which is for US and Canada users. If outside of the USA or Canada, like meus, make sure to select a unit compatible with international power supply of 220 – 230 v. This costs a couple of dollars more, though. The default unit costs USD 179 while the international unit is for USD 181 or roughly around Php 8000 excluding shipping. I saw an online shop on Facebook selling this for Php 10,000.
PMD is open to both US (via USPS) and international shipping but the buyer shoulders the shipping fee, of course. In my case, I had it shipped to my tita's address in New York so I can save on international shipping. Coincidentally, PMD offers free shipping to US and Canadian address for purchases above $50 which means I only paid for the unit alone and no additional charges.
Getting my hands on my very own PMD really made my holiday season extra special and festive indeed. I just can't wait to try it! I'll try to make an entry or journal of some sort containing the details of my PMD experience and its effects to my skin every month or so. It looks oh so promising and I just can't help but be swayed by all its mesmerizing claims. Do wait for my updates, ok? 🙂
Know more about PMD by visiting their site. Click HERE.
Remember, makeup can only to so much and so let us not neglect our skin. It needs love too!
Cheers to a healthier skin this Yuletide season! *wink