Before we bid November goodbye and greet the most celebrated month of the year, let me first acknowledge my super duper hyper member of the month for November.. And also show you what's in store for the December member of the month.
*wink
It's always a joy to read your comments.. I appreciate the support and the constructive criticisms. Thank you, girls! Keep 'em comin'! 😀
For the month of December, I'll be picking only ONE (1) super active member. He/she will receive this random loot FREE of SHIPPING. 🙂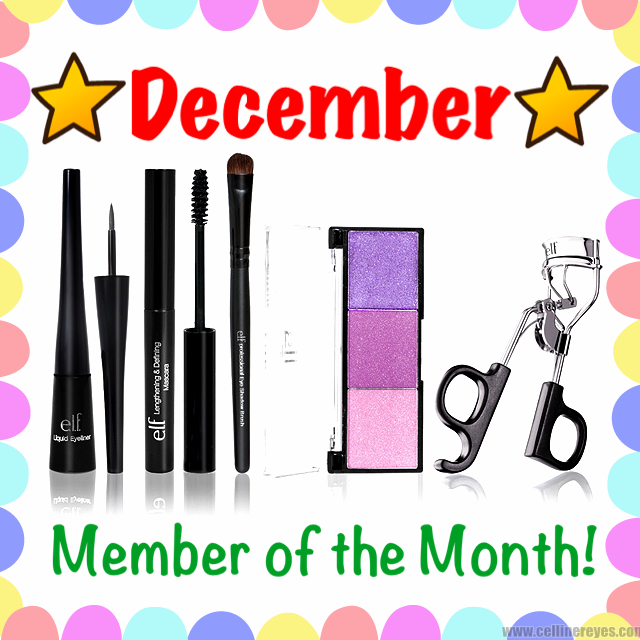 Prize for December is:
ELF Get That Look Eye Set in Pink & Purple
Set includes:
Eyeshadow Trio
Eyelash Curler
Lengthening & Defining Mascara in Black
Eyeshadow Brush
Liquid Eyeliner in Black
Mechanics:
1.) Be a public member of my blog thru GFC.
2.) "LIKE" my blog's fan page on Facebook.
3.) Follow me on Twitter
@celline08
4.) "LIKE" this post.
Click the "LIKE" button below the title of this post.
I'd appreciate it if you could also follow me on Instagram (celline08) for more updates. It's not mandatory though.
Lastly, be an active member of my blog by posting your comments, suggestions, reactions or just about anything on the posts that interest you. Comments from past and present blog posts are counted. But bear in mind that it should be substantial. I accept criticism but I certainly don't tolerate rude comments.
Also, Twitter and Facebook activities are ALSO considered. 😀
The November Winner is:
JAYRESA!
Congratulations! Thank you for keeping my blog flowing with all your interesting comments. And for that, you'll be receiving this awesome set of goodies. Cool, eh?
*wink
Please email me your shipping details at
joelle_celline@yahoo.com
or you can just simply send me a message on Facebook.
If prizes are not claimed within 10 days, it will be forfeited.
If you didn't win, don't fret! There are still a lot of "Member of the Month" giveaways to come. So let's keep the blogger-reader relationship alive by leaving a comment whenever you drop by, okay? 😉
Also, I'm announcing something BIG tomorrow. I'm super excited, I hope you'll join and support it. Much love, dearies! 😀