Oh myyy! It's December already. Time flies so fast, noh? 🙂
Yesterday, as I was reading random tweets out of boredom, I came across my high school batchmate's tweet that goes like this:
"Alam mong #DecemberNa
, pag nakabalandra na ang mga mukha nang mga pulitiko sa mga poste with their sincere Christmas greetings."
– @
BogartTheGreat
I seriously tried hard to keep my chuckle down because I was in a public place and I didn't want to look like a weirdo. It was so funny 'coz it's true! Oh man, politics. *rolls eyes So as I continue walking around while catching a glimpse on the new tweets every once in a while, something came up to me. Samin sa DLSUD (at least in our group), alam mong
#DecemberNa kapag nagkukumpleto na ng stickers for a Starbucks planner. LOL!
It sounds really petty compared to the slightly political and ethical issue of the first tweet. Oh well.. 🙂
4 more stickers to go!
Going back to the main purpose of this post.. I have so much to be thankful for this past few months — my responsible siblings, supportive boyfriend, financial security all thanks to papa, our cousins who live near us and always check on us, my weird friends and of course my generous sponsors and loyal readers for trusting my newbie blog. I've been shopping nonstop for 3 months only to realize that I really don't have the need to accumulate more expensive things to make me feel better about myself. I'm as happy as I can be given certain circumstances. 🙂 I wish I realized that before spending all my savings. *facepalm
So without further ado, let me show you the prizes for my Holiday/Gratitude/Birthday contest. It feels weird giving away gifts instead of receiving them for my birthday. LOL!
MAKEUP CONTEST (1st and 2nd Prizes)
Theme: Holiday Festivities
Be as creative and bold with color or as timid and sweet as you please. Just make sure it's original! You don't have to be an expert, we
(the sponsors and I)
appreciate the effort. 🙂
From dress to face and body care to brush set to nail care to makeup. All you'll need to look fab this holiday season is here!
CONSOLATION PRIZES (Randomly Chosen)
If you're not sure about your makeup skills, it's ok! Just accumulate as much entries as you can and get a chance to win one of the sets. Share, tweet post and like away, dearies! 🙂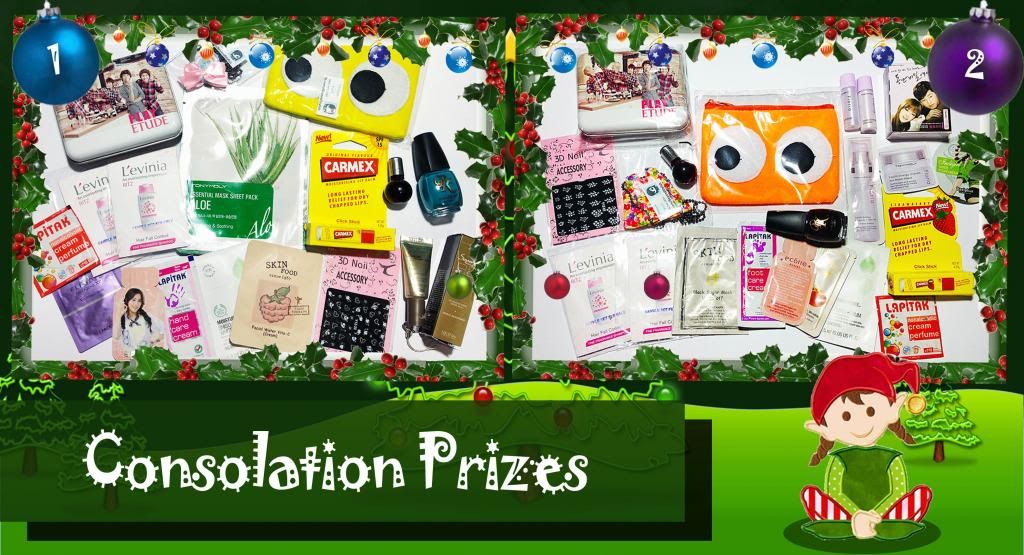 But wait there's more! — I sound like a television ad. LOL! 🙂
I just received a message from Johnny Air Cargo saying that my packaging from US is ready for pick up. So expect additional goodies and more consolation prizes. YEY!
COMPLETE MECHANICS:
Please do follow it to the dot.
This is NOT like my usual giveaway. This is actually a MAKEUP CONTEST coupled with a random GIVEAWAY. Below you will see a Rafflecopter widget. Do what it says to get points. After accomplishing all mandatory entries, you will be eligible to send in your makeup look for the contest.
Blogger friends, please post the look on your blog/s. If you don't have a blog, you can post it on your Facebook page AND my fan page's wall, Then send me a link via the Rafflecopter widget below. It's worth 10 pts. ONLY 2 ENTRIES PER PERSON. I, along with some of the sponsors, will be the one to judge the entries.
The winners of the consolation prizes will be chosen RANDOMLY so I suggest you get as many entries as possible. 🙂
Open for Philippine-based readers ONLY. Announcement of winners will be on the 1st week of January. Deadline for entries will be on December 31.


EDITED: This contest will be EXTENDED until January 10!


What you see is what you get, lovelies. And of course, FREE SHIPPING!
Good Luck, ladies!
It's fun to share one's abundant material blessings but don't forget that just the miracle of waking up in the morning and getting one more day with your loved ones is enough to be thankful for. 🙂
23 days before Christmas!