A while back, a reader asked if I can create a detailed entry comparing my all-time favorite, Carmex, and Maybelline Baby Lips. Hi, dear! 🙂 If you're reading this, sorry if it took so long. I had to buy and test Maybelline Baby Lips first to be able to give you an in-depth, good and honest comparison on this. I hope you appreciate this. Enjoy! 🙂
PRICE, PACKAGING
& AVAILABILITY:
It is obvious from the photo above that both Carmex and
Maybelline lip balms are of the same tube size with similar click thingy on the
bottom to dispense the product. However, I noticed that unlike Maybelline,
Carmex's packaging is having a hard time to retract any excess product. Note to self: Be
mindful in twisting the bottom part. As for the packaging, Maybelline directed more effort to making their lip balm more appealing to younger market while
Carmex sticked to their simple and classic yellow-red color scheme – almost
like saying let the product speak for itself. 🙂
There is a rather material difference in price considering that they are of the same size and amount of product.
Carmex and Maybelline costs Php110 and Php 80 respectively. So far, I only saw
Carmex products being sold in Landmark, Suesh branches and PNC at Festival Mall, Alabang
while Maybelline is available in almost all SM Department Stores and Watsons.
FINISH & TEXTURE:
In a nutshell, Maybelline feels lighter on the lips and can
be used before lipstick application as it will not hinder the color to adhere
to the lips. Whereas, Carmex, is a bit heavier, waxier in comparison and
needs to be removed before applying any color product on the lips so as to let
the very pigment to stain the lip – Carmex tends to create a barrier between
the lips and any other product.
Read my in-depth review on both products for more
details. Click HERE (Carmex) and HERE (Maybelline).
For lip balms, the most important measure – for me, at least – is how well it moisturizes the lips and prevents it from being dry. That being said, I guess Carmex is better as it does a way better job in hydrating AND reviving dry and chapped lips. While all Maybelline Baby Lips can do is keep it as is. So if you have normally supple lips, you'll be glad to know that Maybelline can help maintain it even under tons of lipsticks. BUT if you have dry lips to begin with, well, it sucks for you.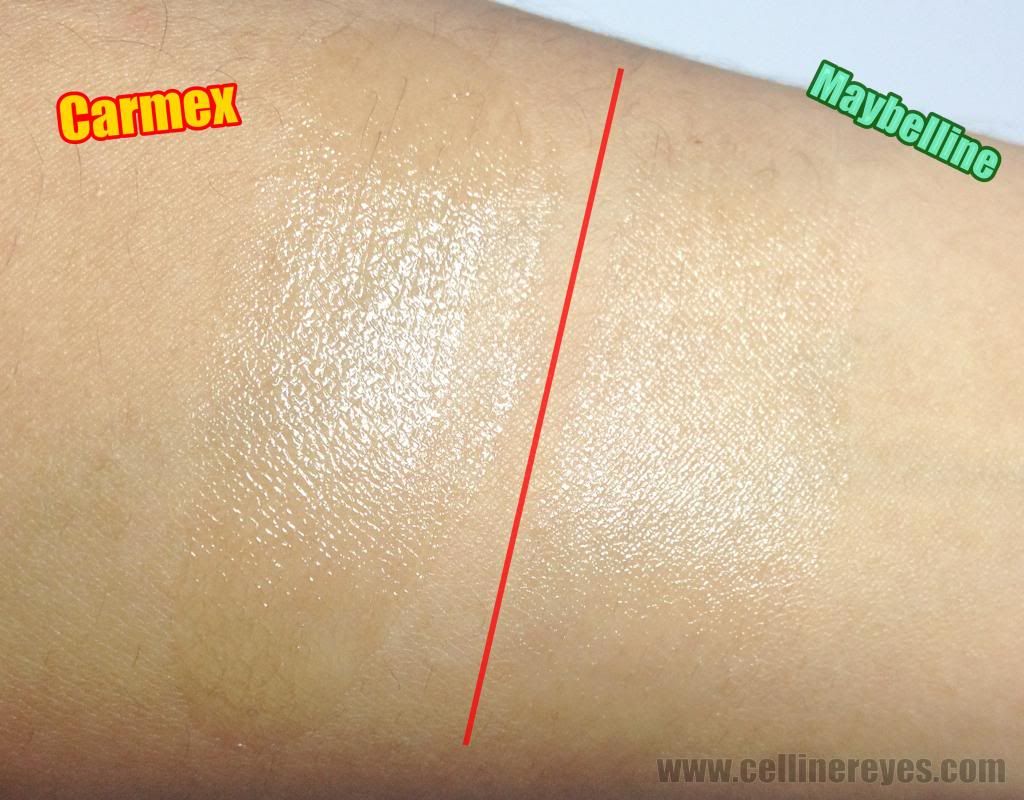 So overall, I'd say that
Carmex
, still, is my lips ultimate hero. Love it to bits! 🙂
How about you? What/who is your lips' savior?
P.S Another reader requested for a "Product Arena" post on Carmex and my recently reviewed, Lucas Papaw (Read review HERE). Unfortunately, I won't be giving in to such request. Only because those two products are quite different. Carmex IS a lip balm whereas Lucas Papaw CAN be used as one though it's not limited to such purpose. 🙂