I am
actually blessed to have a relatively normal skin. It isn't too sensitive, thus
allowing me to switch from one product to another without any major fuss at all. I do
get a pimple once or twice a month during my week but most often than not, those pesky zits
pop up somewhere unnoticeable like my hairline or near the ear. Come to think
of it, I should thank them for not popping up on the center of my nose or
forehead like a freaking signal light. LOL! So yeah, I can't complain. 🙂 But I
do hope I can say the same for le BF.
BF and I have exactly the opposite type of skin. Mine is a bit dry and unreactive to most products while
his skin is sensitive and super oily (as if an oil tanker spilled or something) making it
prone to pimples — to his defense, he sweats a lot and becomes oily easily even under medium heat because he's used to air-conditioned places. Not only that, when his pimples do decide to show up, they
really pick the most attention-grabbing places! Seriously, it's impossible to ignore.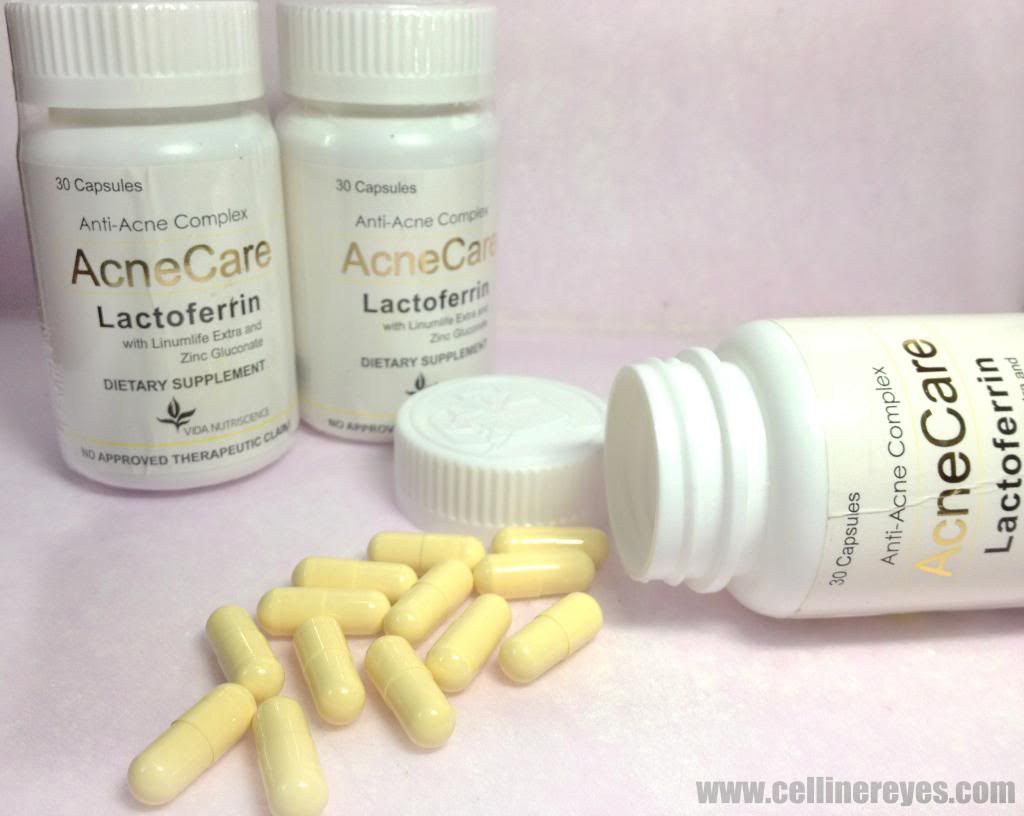 One bottle contains 30 capsules. Good for 15 days (2x a day).
So
when the representative of Vida Nutri-Science, Mr. Erick Vida, emailed me few months
back regarding their anti-acne product, I did not hesitate to accept it for a
review purposes. I figured, what's the worst thing that could happen, right? Well, when
I was told that the product was for acne treatment, I immediately assumed that
it was some kind of topical ointment or something. Poor naive, girl. I was apprehensive, to say
the least, to try the product when I saw that it was an oral pill-type of
supplement. I do like trying new products on my skin but when it comes to
products which I have to intake, well, that's a whole other question because
it's my health that's on the line there. And oral supplement that are unknown to me is just too risky and invasive.
I
did an intensive online research about the brand and the ingredients for days and after
strenuously reading articles after articles, I was convinced that it was safe and I had no reason to
think otherwise. Now the only question that remains is whether or not it is as effective as it claims to be.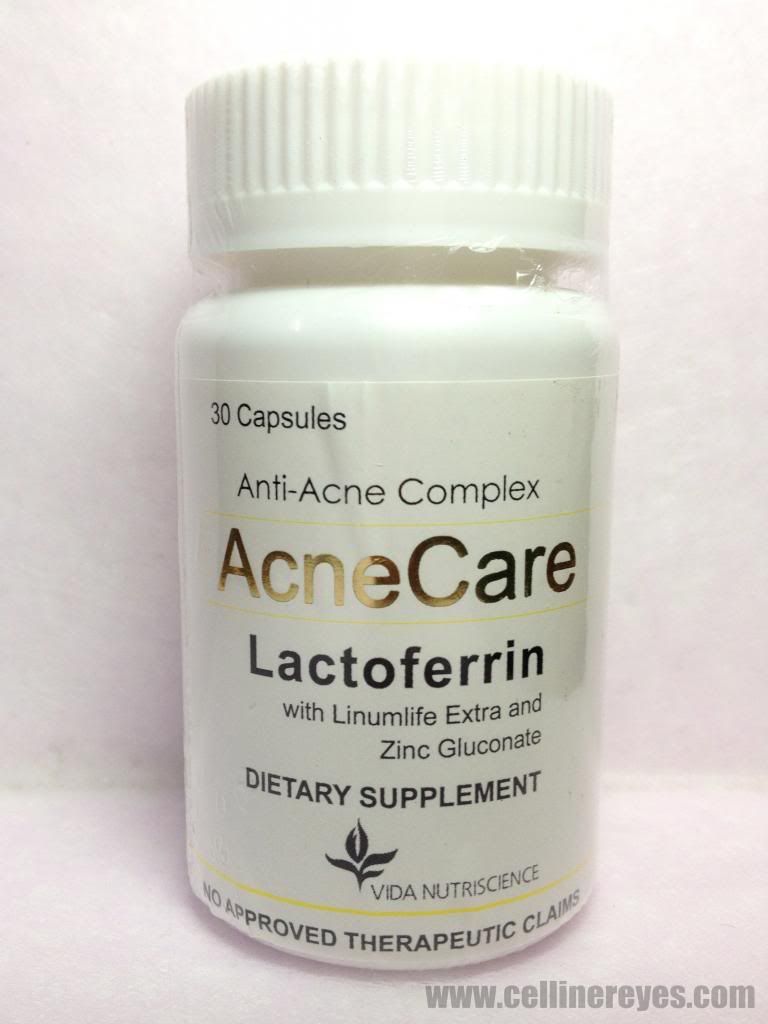 (Info Provided by the Brand)
AcneCare is
the first oral pill for acne in the Philippines. What makes it so revolutionary
is not just its form but also its contents. AcneCare combines three potent skin
medicines to bring you: Acne3 Complex.
Acne3 Complex:
Lactoferrin is naturally produced by the body as part of its immune mechanism. The highest concentration can be found in mother's first milk or colostrum. Lactoferrin has anti-bacterial, anti-viral, anti-allergic and even anti-cancer properties. Increasing the amount of Lactoferrin in your diet targets the causes of acne from the inside: no bacteria, no virus, no allergies.
LinumLife is extracted from flax, a plant rich in lignans. When ingested, LinumLife is converted into our body's own lignans which controls the level of the male hormone testosterone. Lower levels of testosterone mean less sebum or oil on the skin surface.
Zinc, when taken orally, increases the body's production of collagen, boosts the immune system and controls the levels of male hormones. Zinc helps repair broken skin, controls premature aging, prevents breakouts and lessens oil-production.
According to their clinical trials on Lactoferrin:
Clinical studies on acne sufferers wishing to be acne free showed visible changes, including fewer blemishes, a reduction in the amount of redness and less oiliness. The median improvement was:
44% reduction in blemishes by week 2
71 % reduction by week 4
95% reduction by week 8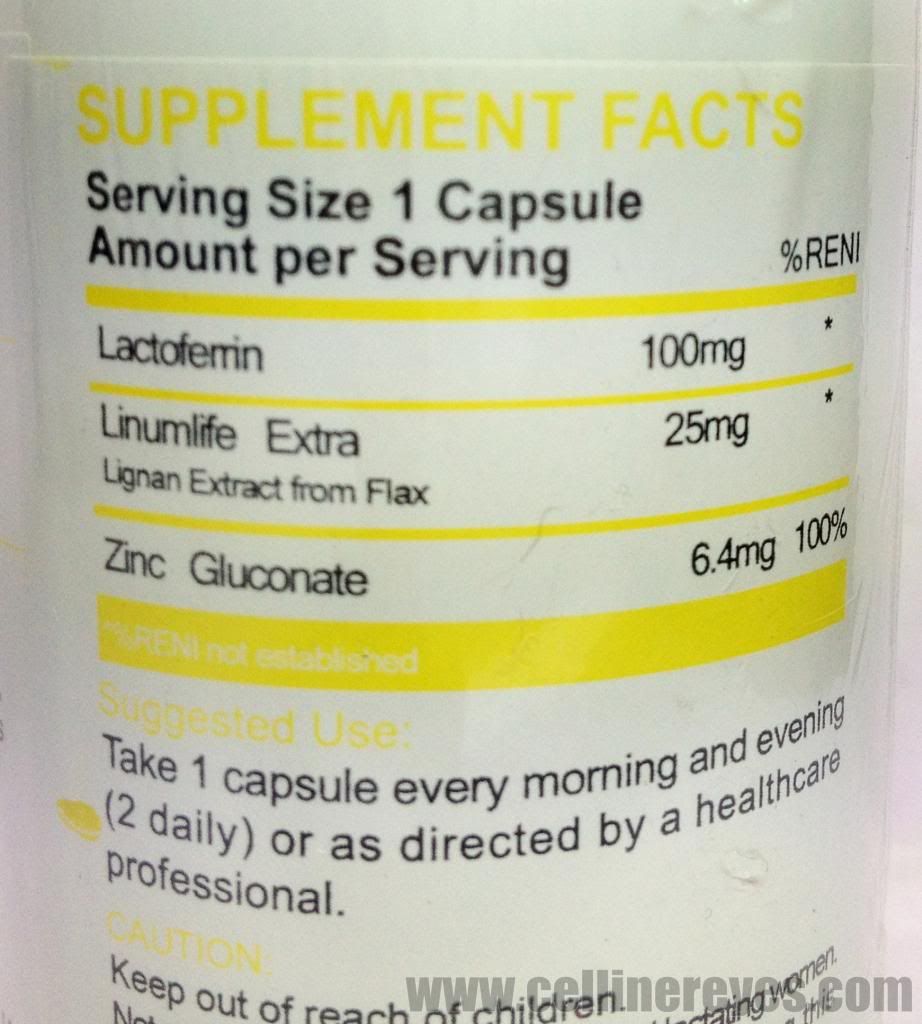 Now for the results.
I consumed
the first bottle trying to get rid of my horrid back-acne. Yes, one bottle
(good for 2 weeks) was enough to put a stop on my itty bitty back bumps!
Unfortunately, I wasn't able to document my progress because I couldn't find anyone
willing to take pictures of my bare back. Even my little sister won't do it. LOL!
On a different note, BF
is about to finish his 2nd bottle now and I was able to take
pictures of his progress. The before shot was taken last month, right after our 3-week semestral break. During those 3 weeks, he stayed up 20-22 hours a day playing
who-knows-what and completely neglected his night time regimen – yes, he, too, has his own Etude House face
cleansing set. LOL! And all those late night gaming… look what it caused
him; a massive, stomach-churning pimple that could pop any moment. Eeew! I don't
wanna embarrass him but seriously, eeew.
I literally
forced (with matching threats LOL!)
him to try taking AcneCare. He wasn't really thrilled about the idea but he had
no other choice especially when his annoying girlfriend kept bugging him every
after meal asking if he took his supplement already. Heck, some even accused me
of turning my BF to a gay-ish type. Well hey, there's nothing wrong about
wanting your loved one to look neater and more presentable for his OJT, right?
Moving on…
As you can
see from the photo above, after weeks (3
weeks to be exact) AcneCare was able to not only shrink the humongous
pimple on BF's left cheek but it also helped in preventing post-acne scar. I
mean seriously, with a pimple that big, you would at least expect a scab of
some sort right? *jaw drops 🙂
As of
writing, BF still has a couple of small zits on his forehead but they're almost
unnoticeable and more importantly, nothing as repulsive like the one on the
photo.
My little
bro is also experiencing a bit of a breakout since he hit puberty but it's not
as problematic as this. I'm not quite sure if AcneCare is safe for a 14 years
old boy though… I'll have to ask their rep first before buying my bro a bottle.
🙂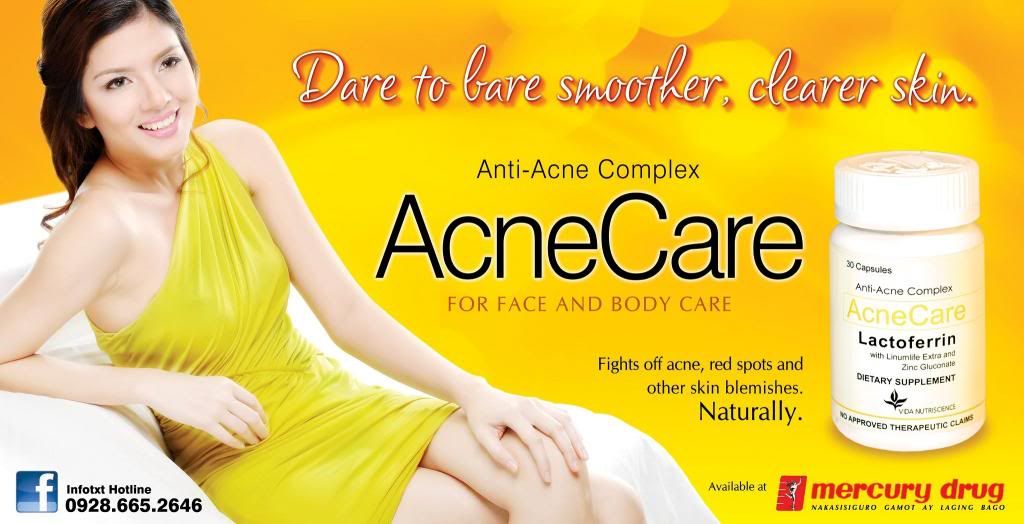 AcneCare is
available at Mercury Drugstores and Watsons Drugstores.
AcneCare dietary supplement is a great way to fight off small skin imperfections but remember, healthy lifestyle and diet makes radiantly good-looking skin. So do pay more attention to what you consume on a daily basis because.. we are what we eat.
Stay happy and healthy, girls! 🙂