Random Fact:
I
rarely
splurge on blushes and cheek tints. I just don't see the logic behind the expensive blushes. In makeup, I usually spend a lot on primers, foundations and other face products instead of color products like eyeshadows and lipsticks. Simply because I strongly feel that a flawless canvass/face and a defined brow is the most important part of any makeup routine. As long as your face looks smooth and clear without looking cake-y, anything can go. Everything else is just an added bonus.
With this, I can't justify buying thousands worth of blushes. Heck, in the morning when I do my makeup for school, I just use whatever is within my reach. I'm not very picky as long as it doesn't cake and cause breakouts.
Here's one of the very few blushes I currently own,
I've been frequenting a nearby SM for the past few weeks and I noticed that Allue Shimmer Cheek Blush is on sale like 80% of the time. I'm not sure how much I got this for but I'm almost certain that it was less than a hundred peso. The cover looks really girly and childish but the blush itself is actually pretty good. I'm actually proud I gave this a try despite my shallow dislike in their choice of packaging. LOL!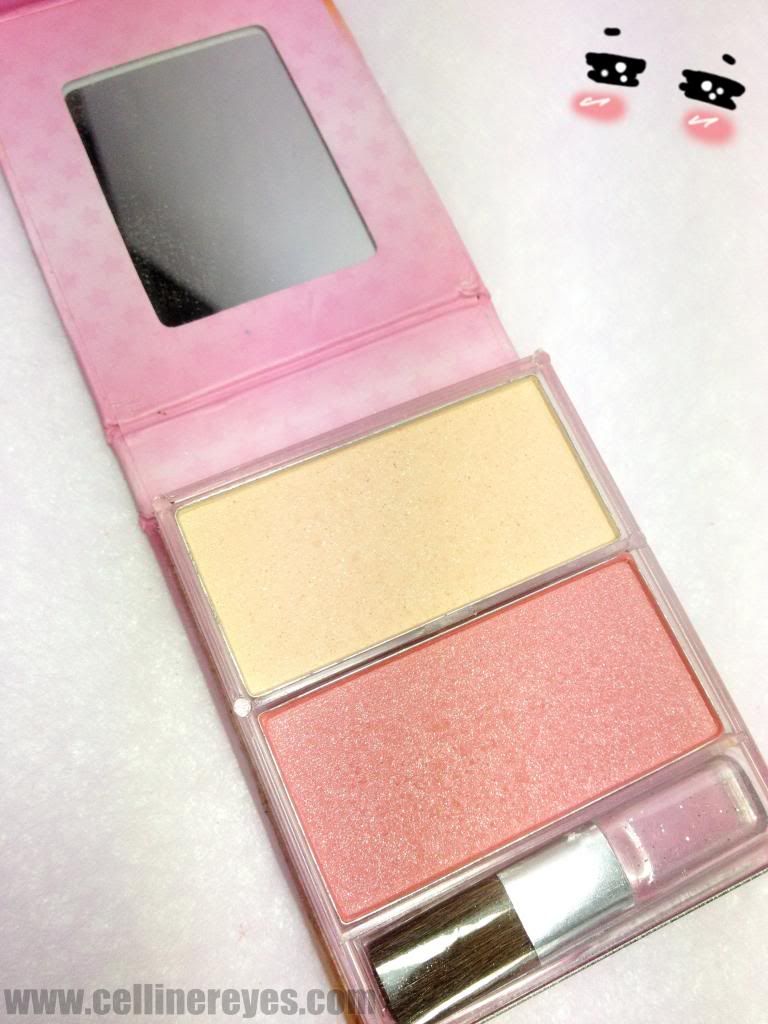 Allue Shimmer Cheek Blushes come in a cardboard-like pact that has a magnetic lock near the brush compartment. The lock doesn't really offer much security against spilling as it is fairly easy to unlock and open by accident. The top part has the built-in mirror and right below it is the duo blush pans. On the top is the highlighter while the bottom one is what I'd love to call the "pop of color". According to the makeup book written by the famous makeup artist, Bobbi Brown, it is best to apply a natural-looking blush that is close to your skin color before adding a flattering pink blush to make it look subtle and natural, of course.
And for that reason alone I love this duo blush palette. It has exactly the 2 blush shades Bobbi Brown was talking about in her book. Not to mention how surprisingly affordable this duo is.
I was right not to expect much from free brushes that come with cheap blush and eyeshadow products. And this tiny brush is no exception. The metal ferrule adjoining the clear plastic handle to the bristles is loose and poorly-made. Thus, allowing the bristles to shed like crazy during usage. As for the bristles, well, they're stiff, coarse and flimsy. The brush as a whole is rather useless. If ever you decide to buy this, I suggest you buy an angled Artist Studio brush
(Read review HERE)
from Landmark instead of forcing yourself to use the lowly brush that comes with this. 🙂
This is actually my second blush from Allue. The first one is also Shimmer Cheek Blush in Diana but I'm positively sure that the highlighter shade changed. The older version is more on the coral, almost orange-y, side of the color wheel while this one is almost like a powder white shade with a bit of yellow tinge. I know they changed the shades/formulation but the SA from HBC said that they're still the same. :/ I still have my old one. I can prove it! LOL!
SWATCH: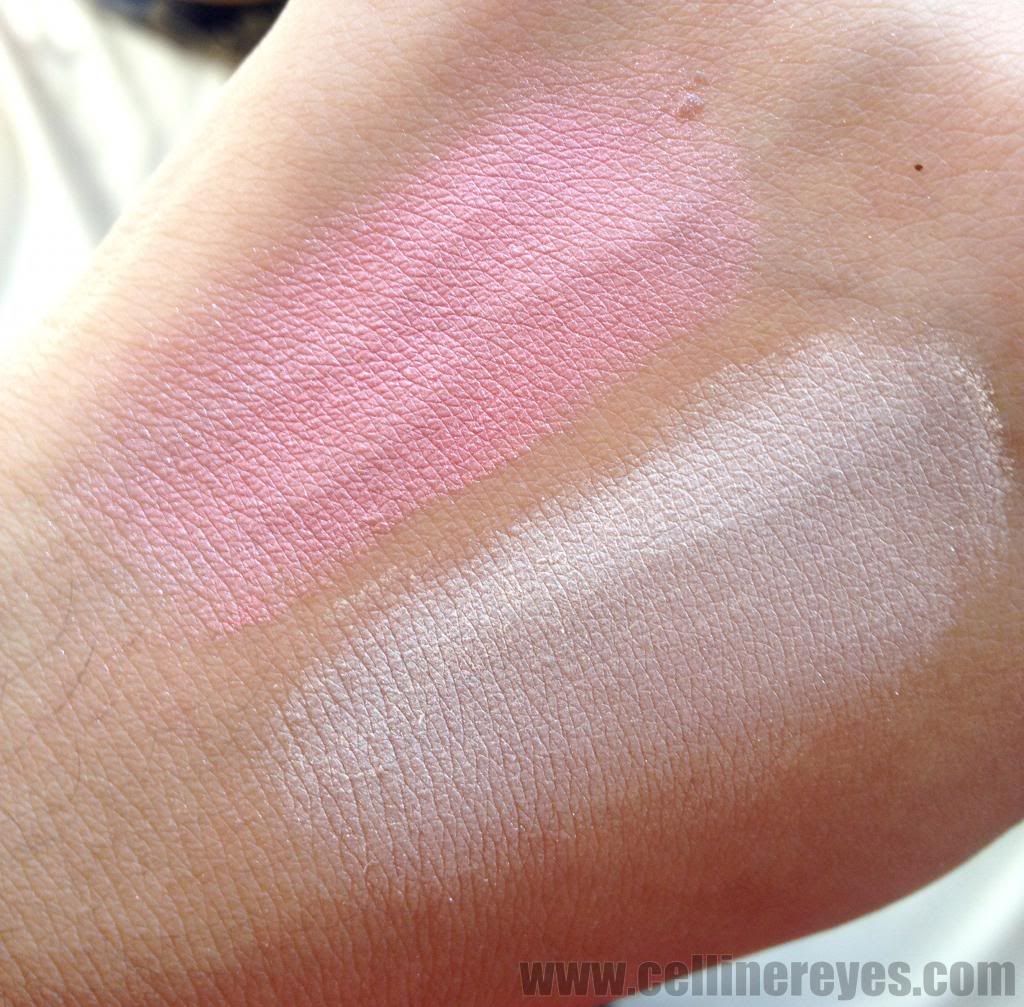 Both shades have decent color payoff. They are not overly pigmented to the point that you'll have to be super cautious in applying them. I for one have quite a heavy hand in applying makeup so I often have the tendency of putting too much blush and then swiping it of with a tissue. But with Allue Shimmer Cheek Blush, I just swirl my brush a couple of times, dust it on my cheeks without tapping off any excess and I'm good to go!
During application, I experienced very minimal fallouts with the highlighter and almost none from the pink one. Both have tiny specks on them but highly unnoticeable from few feet away which makes it look more natural and glow-y. The pink shade can last for hours provided that I don't sweat too much. I can't say much for the lighter shade though since it goes highly unnoticed when blended and topped with the pink one. 🙂 Overall, this duo blush is a great steal considering the price, quality and the amount of product you get. For beginners, you might want to try this product. It is budget- and user-friendly. 😀
I read from one of
Michelle Phan's posts way back that everyone has at least one childish product in
their kit. I guess this is mine. What's yours? *wink