Great makeup artists and enthusiasts would always put tremendous emphasis on how vital the role of good quality brushes are in makeup application. I agree that the quality of the brushes we use can make or break the look we are trying to create BUT what is usually lost in translation is that, commendable brushes doesn't always come with hefty price tags. Contrary to popular belief, I don't think we have to spend a lot to get a decent brush. We just need to know WHERE to look. In order to convince you, here are some cheap brushes I hauled some time last month from Landmark.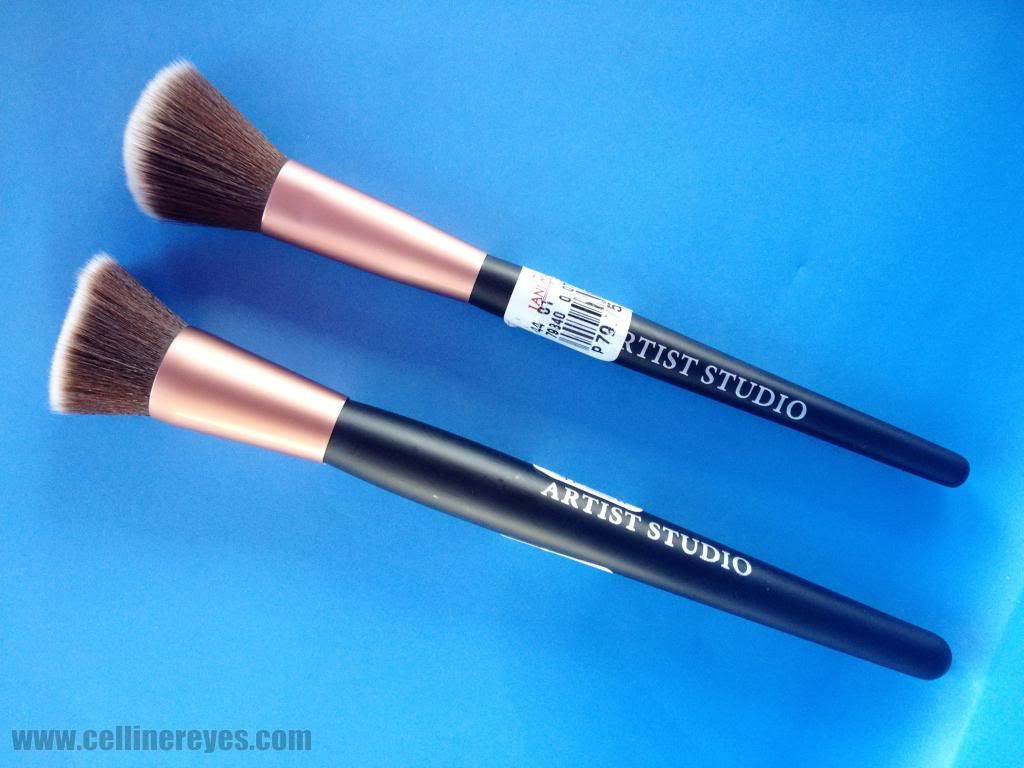 Some of you probably know by now that Landmark is the house of surprisingly cheap beauty finds. Whenever I go to Makati, I always make sure I rummage through the brand-less brushes stall at the center of the beauty and makeup section. I've seen Sigma, Ecotools and even Suesh dupes for almost one third of the original price there! I almost automatically ran my fingers thru most of the brushes to make a quick "to buy or not to buy" assessment depending on how soft the bristles are. Some are rough, stiff and just plain blah but majority are actually pretty nice considering how cheap they are.
For Php 119.75 and Php 79.75, these are currently the cheapest addition to my brush pile. Oh wait! They were on 20% off when I bought them so I paid like Php 96 and Php 67 respectively. So freakin' cheap! I can't believe I almost passed them up.
Anyway, since in my opinion, I already have most of the essential brushes for basic makeup application, I decided to get only these two professional-length, angled brushes and mustered enough self-control to leave the other 3 brushes I was holding.
The handles are of "professional length", though they're a few centimeters longer compared to most of my brushes. They're made of black rubber material which makes them prone to dust accumulation and also tends to make my palm sweat more than usual. The ferrules that connect the handle to the bristles are made of bronze colored metal that adds oomph to the brush's overall appearance. Moving on to the most important part of the brush; its bristles. They're two-toned (auburn and white) synthetic bristles, obviously, are fairly soft and in no way rough on the skin. And as we all know, this specific kind of bristles are generally used for cream and liquid products as it doesn't allow the product to seep to its roots near the ferrule.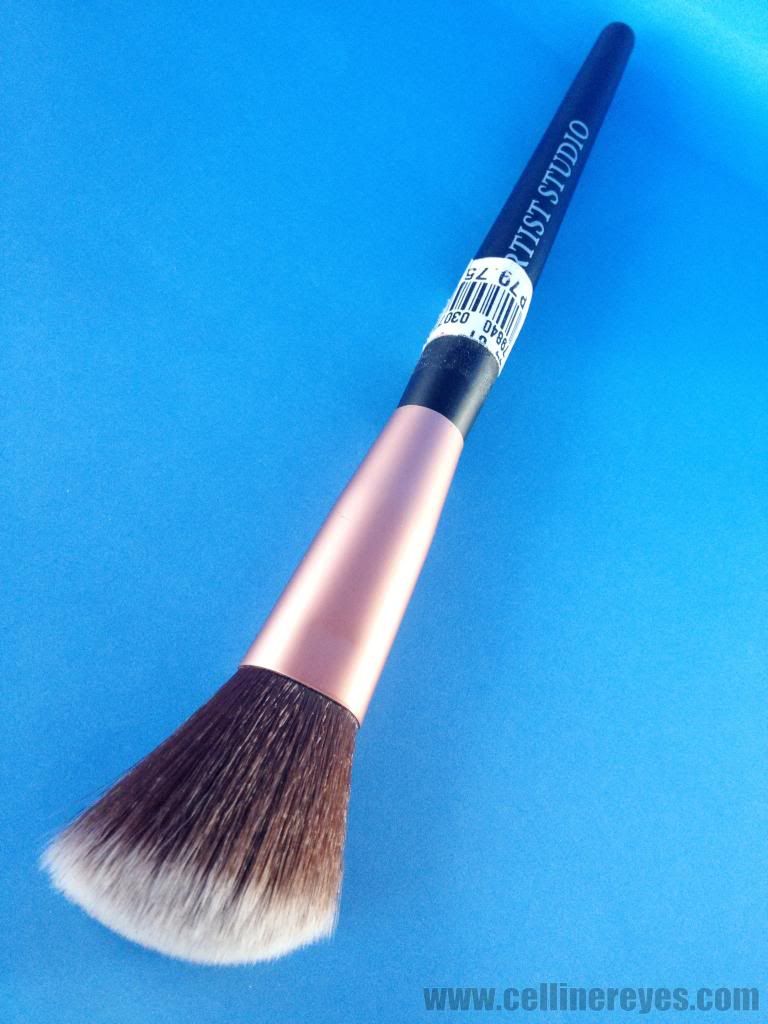 I bought this one with the intention of using it for contouring. I've always wanted a slanted blush brush for contouring but I can't justify shelling out hundreds, if not thousands, of pesos on a single brush when I have tons of brush sets at home. Good thing this brush is guilt-free purchase!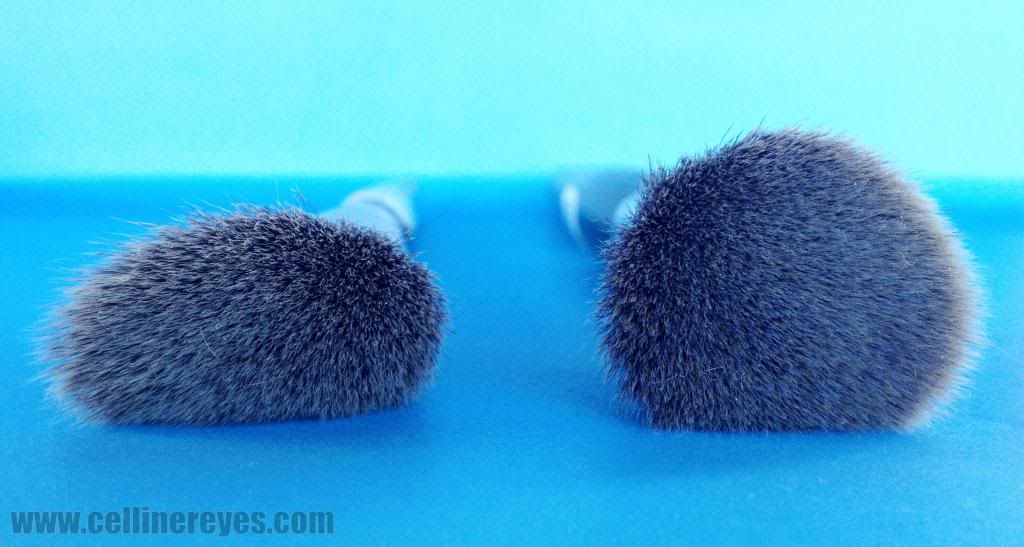 (Left) I personally feel that the width of this particular slanted brush is just the right size to create a sharp yet unnoticeable jaw line by means of contouring. It's somewhat useless when it comes to blending though. Given that it is fairly narrow and uncondensed. But that's when the second brush comes into the picture.
(Right) The densely packed bristles of the second brush makes blending a breeze! With a few circular motions, all harsh lines are gone; creating a rather seamless finish. Also, the slight angled top aids in reaching the crevices of the face and other areas like sides of the nose and mouth that are usually hard to reach with normal stippling brush.
What attracted me into buying this brush is actually it's unconventional look, shape and size. I know for a fact that I have nothing like this one in my stash which made me want to try it so bad. At first I thought that the density of this particular brush would cause a bit of a problem when used with blush. Just from the appearance of it I could tell that it would make the blush pigment look more concentrated on a specific area. Well, I wasn't entirely wrong — I did experience that. But the key is to really tap off the excess product before applying it. When that's done, there won't be anymore problem.
This is certainly my favorite all-around brush as of the moment. I can use it for foundation, blush and even powder. Yes, I love using this to seal my BB cream/foundation with powder. I just love this to bits!
Now that's getting quality tools without breaking the bank!
Have you tried other brand-less brushes from Landmark before?
Comment away, lovelies. 🙂
Oh by the way, if you want to win Ecotool Brush Sets (among all others), join my ongoing giveaway. I'd love to see what look/s you come up with.
Join HERE.