Isn't it great to have a wide variety of lip colors to choose from within your reach? I find it really easy switching from one look to another just by changing my lip color and then maybe add some eyeliner too while I'm at it. Honestly, I can go from a laidback casual look to a perky party look by just swiping off my everyday Ever Bilena lippie in Mauve and replacing it with
MAC in Moxie
or
Models Own in Hot Pink.
Ooh la la! Girly and fun! 🙂
Anyway, I started rekindling my long lost love for lip glosses few weeks ago. I guess you prolly know that by now if you read my previous lip gloss-related posts. 🙂 So here's another lip gloss review from a not-so-famous US brand, Jesse's Girl.
Read my review about their blush HERE.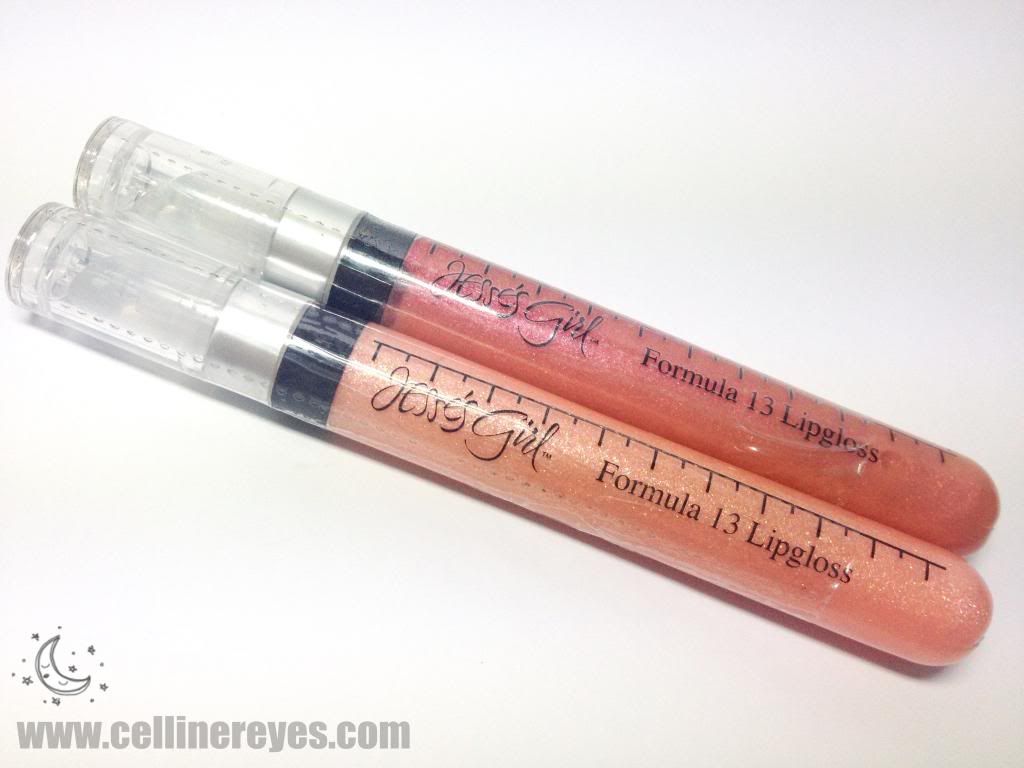 You can checkout
Jesse's Girl
's MAC-like website
HERE.
Jesse's Girl Formula 13 Lip Gloss is available in 6 different shades — apparently, all names derived from European-Asian fruits.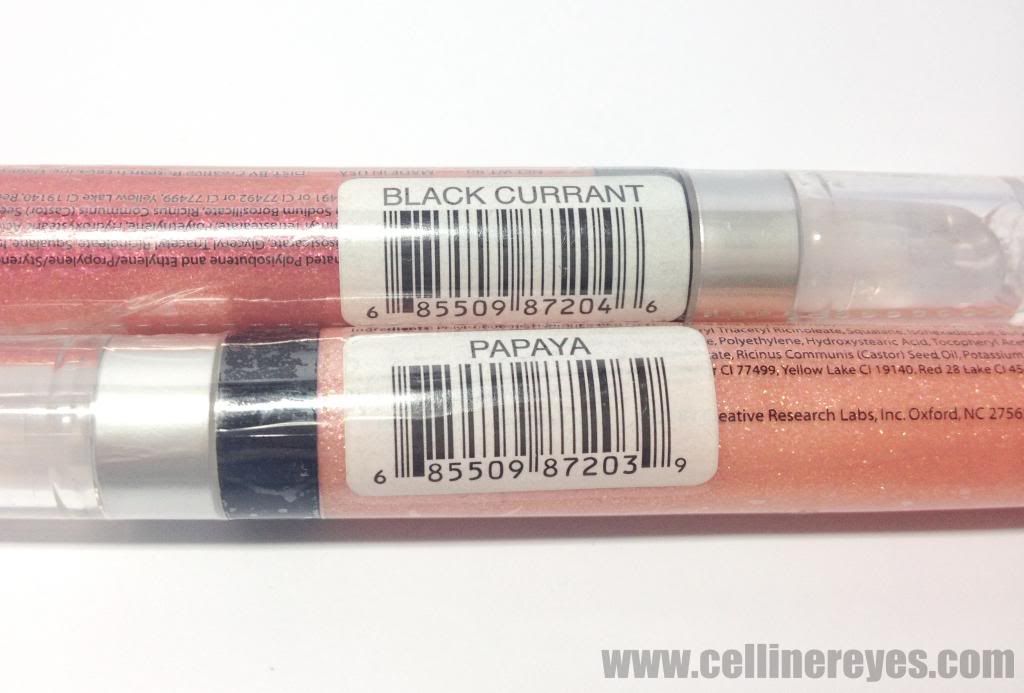 Jesse's Girl Formula 13 Lip Glosses are designed after a pharaceutic-style packaging and a lovely glitter-filled colored gloss. As expected from any typical lip gloss, Formula 13 has very little color to them unlike lipsticks which are almost, if not completely, opaque. However, Jesse's Girl Formula 13 has commendable wear-hours compared to other drugstore gloss brands — even the glitters stay put! I feels a little heavy when worn but nothing major.
Personally, I think its scent is too strong and overwhelming. It's actually the same for both shades of glosses so it's safe for me to assume that it has something to do with the formulation as a whole. I think some might find the smell offensive.
As for the packaging, I think the overall look of the Formula 13 Lip Gloss line was able to pull off the laboratory-like theme that goes so well with the name of the line. Each plastic test tube-like containers hold 9g of glittery lip gloss. And to make it look even more convincing, details such as volume tickers are drawn on the side of the squeeze tube. The cap is a sturdy clear plastic which covers the slanted applicator that looks a lot like a dropper. Kudos for the creative packaging!
However, this kind of squeeze tube proves to be a little difficult to use mostly because the lip gloss is thick in consistency due to the glitters. Making it a bit of a challenge to dispense. It takes a great deal of effort but squeezing it from the bottom to the top part sure does the trick.
SWATCHES: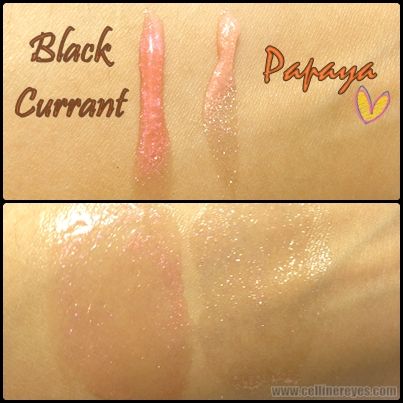 Papaya, a fruit known to all Filipinos, is a pale peach shade with silver and white sparkles. Black Currant, on the other hand, is a fruit unfamiliar to me. I seriously felt the urge to research it on Google. LOL! In case you're also wondering, black currant is a temperate native fruit crop. 🙂 Okay now that's out of the way, black currant, like what is shown on the swatch above, is a coral shade that's slightly inclined to being almost pink-ish.
ON MY LIPS: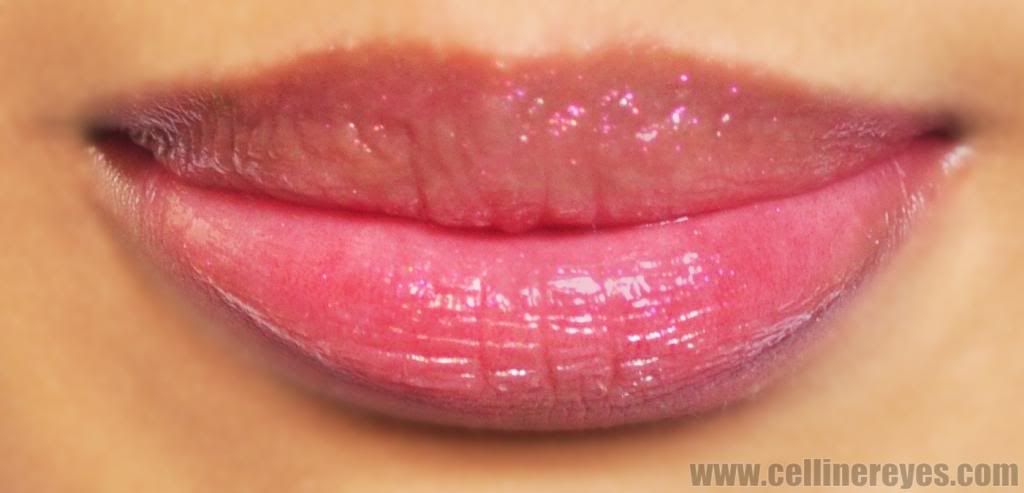 Black Currant
Black Currant, if I'm not mistaken, is the darkest among the 6 shades. It looks tad darker in the tube but it does give my lips a pink tint as seen from the swatch. The red and pink shimmers are not as noticeable on the hand swatch as it is in the photo above though.
Papaya
Unlike Black Currant, Papaya's pigmentation leaves
so much to be desired as it stains the lips with the merest tint of
the pale peach it once looked like on its tube. Beyond that slight hint of
color, it's glitters all the way. This might not be best for everyday look to
work or school but it's definitely a great touch to any night out look. 🙂
So what do you think of my geeky-looking lip gloss? Awesome packaging, right? 🙂
I'm thinking about doing a comparison. 🙂
See you on my next post!
By the way, if you want to win Ecotool Brush Sets and Etude House Nail Kits (among all others), join my ongoing giveaway. I'd love to see what look/s you come up with.