They said emerald green is the color for 2013, eh? Not for me, I guess. Every year is RED for me. LOL!;) Like the classic red lipstick that most girls love, here comes another bright red product that proves that the color red is not only for festivities. In the contrary, it is a color that is good all year round and is meant to stay even if different trends come and go.
This famous Australian-made ointment that claimed to be unchanged for over 100 years recently reached our shores all thanks to the efforts of local online shops. It received raves from different bloggers that I was also tempted to buy. But from reading about the product and discovering that it was cheaper when brought from Australia (duh, of course!), I asked my cousin to buy me a 75mL tub. Apparently, she wasn't paying attention seeing that she got me a 25mL tube instead. :
But don't be fooled! 25mL is indeed a lot of product. It may look small since it comes in a tube like most lip balms but in person, this tube is more than twice the size of my original Carmex lip balm! And it's safe to say that this tube right here is good for 3-4 months. Oh! And also, my cousin bought at it The Chemist Warehouse in Aussie for less than AUD 5 (Php250). Available online for Php450.
Lucas Papaw (pronounced as "po-po") ointment has antibacterial and anti-microbial properties and can be used relieve minor burns & scalds, sunburn, gravel rash, minor open wounds, nappy rash & chafing, insect bites and for cuts caused by splinters & thorns. This is definitely a multi-purpose product that has proven to be very useful. No wonder it's very popular in Australia!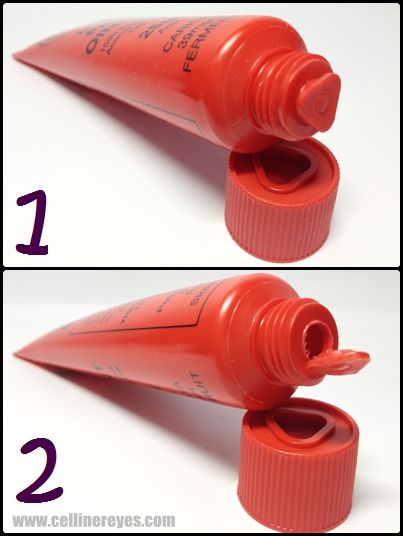 Just a quick "Know How" for those girls who are too shy to ask. 😉
Once you get your hands on a Lucas Papaw 25mL tube, it will come with a hard triangular seal inside the traditional cap. If you notice, there's also a triangle cutout on the cap itself. All you'll have to do is to align the seal on the cutout and then twist the cap to remove the seal. Don't use your nails to remove the seal! We don't want you to break your precious nail in the process. *wink
There you go! 😀
The ointment itself is very thick in consistency but surprisingly, it isn't waxy nor greasy at all! When dispensed, it has a bit of a yellow-ish hint to it but once spread, it becomes almost transparent. It glides on smoothly and effortlessly on any part of the body. It feels light on the lips and non-sticky on other body parts when used topically on minor wounds.
It has a very light organic scent to it that goes highly unnoticeable. It took me more than a week before I noticed it actually. So I doubt that anyone would find the smell offensive.
I like using it on my lips though most of the contents of the tube actually goes to my nasty little insect bites. I have very low tolerance for itchiness. Just ask my legs that are filled with nail scratch marks to prove it! LOL!
For The Lips: It does a great job in moisturizing my lips and keeping it soft but so-so when it comes to preventing chapped lips especially because of last month's cool weather.
For Insect Bites: I don't know if my blood is warmer than the average person because insects seem to particularly choose to bite me over all other people in a given place. So yeah, I get tons of insect bites.. like always! I usually just pour alcohol over it or pat it real hard to make it numb just so I won't scratch it. Going back to my scratch-filled legs, you'll know that my efforts to ignore the itchiness are obviously futile – not to mention drying to the skin. That's when this hefty product comes to light. It relieves itchiness and small bumps from insect bites in an instant! Whenever I feel like scratching a spot, I just grab my Lucas Papaw and dab a small amount of ointment on the itchy spot. And viola! It's itchy no more!! 😀 I just love it to bits.
There you go! My first review this 2013. 🙂
Have you tried Lucas Papaw before? What do you think of it?
Let me know! 😀