After ordering tons of things online, I promised myself I would finish all my pending "to-review" posts before I start opening my newly purchased goodies. I made that promise 3 months ago and now, my orders from US and Korea are arriving one by one.. and I still have 2 ecobags filled with products to review — majority of which are bought using my own money, by the way.
Needless to say, I am currently plastered in front of BF's laptop, determined to accomplish at least 10% of my overdue posts. So enough blabbering and let's get started, shall we? 🙂
MAC Viva Glam LipGlass is obviously not from the brand's more recently launched collections. I think the latest ones are the Pink Dazed and Marilyn Monroe Collection. Well, I really couldn't careless about not being up to date with MAC's newest release because (1) my college student allowance can't afford it and (2) I don't think I need every collection they launch. I love MAC but it's not a "life-or-death" thing for me. 🙂
This was actually a gift from my tita ninang way back… I can't exactly remember when. But I do remember using it once or twice before it ended up in my abandoned case since I'm not really into glosses. I stumbled upon this tube (yes, still in its box) last month as I went through my train case and I decided to review it anyway.
This is in the shade CYNDI. If I'm not mistaken, the Viva Glam series was introduced to help a charitable cause inasmuch as all the proceeds for the said series would go to their campaign towards HIV/AIDS awareness. Imagine helping others just by letting your kikay alter ego shop for a bit. Well, that's actually a worth-while cause, if you ask me. Definitely worth spending a thousand peso on. 🙂
Viva Glam LipGlass comes in a transparent plastic tube that is both lightweight and sturdy at the same time. The top is a classic black plastic where the doe foot applicator is attached while the sides of the bottom half has red embellishments that appears to be the signature of the world renown singer, Cyndi Lauper.
CYNDI is a mid-tone dirty coral shade that leans more to red than orange with tiny specks of glimmer. The shade, in general, is on the warmer side making it easier to wear. In my opinion, this color would compliment any skin tone without washing the one wearing it out.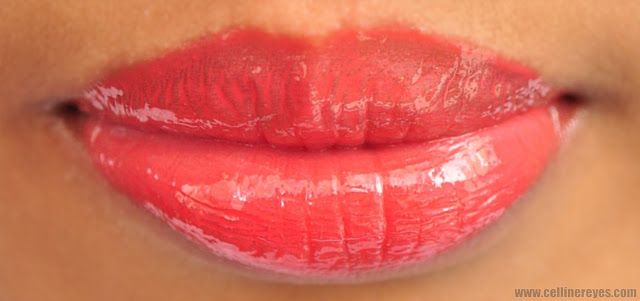 As expected from MAC, their lipglass has awesome color pay off (I can wear it on top of a lipstick or on its own) and better staying power compared to majority of the lip glosses in the market. And who would forget MAC's trademark vanilla scent of course!:) It is fairly lightweight as it doesn't make my lips feel heavy; so wearing it doesn't really bother me that much though it's slightly too sticky for my preference. Also, a word of caution; Given its consistency, Viva Glam LipGlass tends to settle on the lines and crevices of the lips. Thus, accentuating dryness and other imperfections even more so — not flattering at all! See photo above as reference. LOL!
What do you think of the shade? I'm actually beginning to appreciate lip glosses again. Hooray! 🙂
One down, few more to go. This is definitely going to be a long night. LOL!
See you on my next post! 🙂