My major pet peeve when it comes to shopping? SA's who follows you like a dog and/or forces you to buy unnecessary products! There's a huge difference between being courteous and outright suspicious and rude. I mean seriously, do I look like a shoplifter or like I don't have the money to pay for whatever? Geesshh! Department store SA's should really learn from SA's in most Korean boutiques. Sorry about my brief ranting. I just don't like it when SA's tries to intimidate me into buying their product. 🙁
Let's start off with the face products: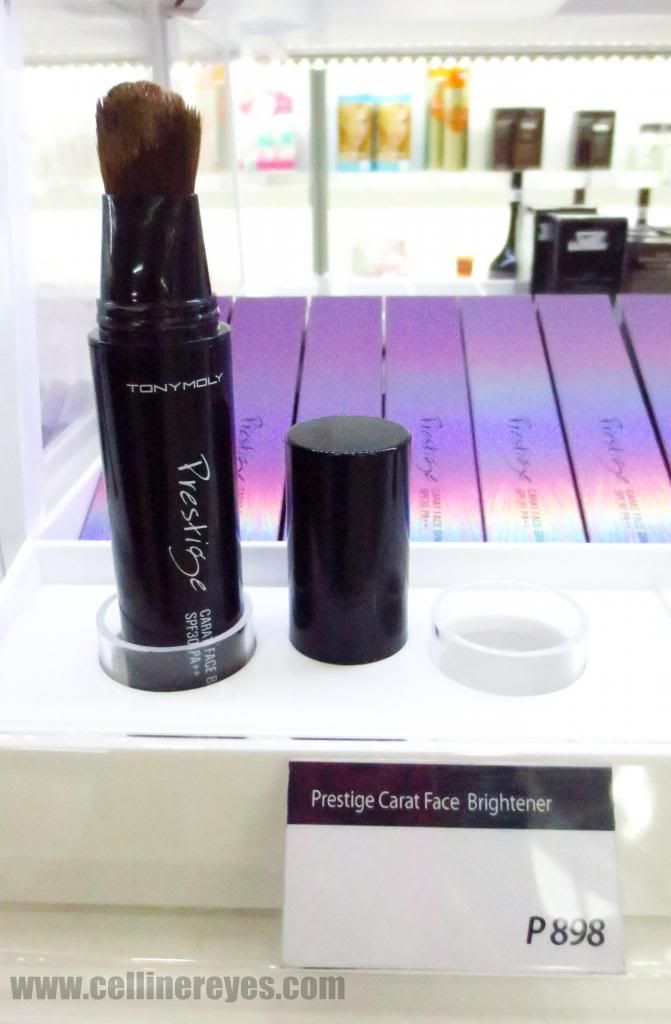 PRESTIGE CARAT FACE BRIGHTENER Php 898
I didn't really gave this bulky tube a second glance as I walked pass it during the Tony Moly launch but Ina of Iambabypanda insisted on giving it a try. I was rather intrigued when I removed the cap and saw that it was a foundation brush! But wait, when I swiped it on the back of my hand, it automatically dispensed the product. Cool! But I noticed from the packaging that it tends to dispense too much product all at once.
From what I've gathered, the formulation is lightweight and non-sticky. I'm not really sure about the lasting power though since I wasn't able to road test the product for hours. Also, I think this is only available in one shade — that's obviously too light for me.
BERRY LOVELY GIRL TIP CONCEALER Php 278
Tony Moly's Berry Lovely Girl Tip Concealer reminds me so much of Etude House's Surprise Essence concealer as they have almost the same packaging, smell and consistency. Quick Comparison: TM is a bit more fluid, consistency-wise, making it easier to blend. It also has more shades to choose from. EH, on the other hand, is harder to blend because of it's thick and rich consistency which apparently offers better coverage.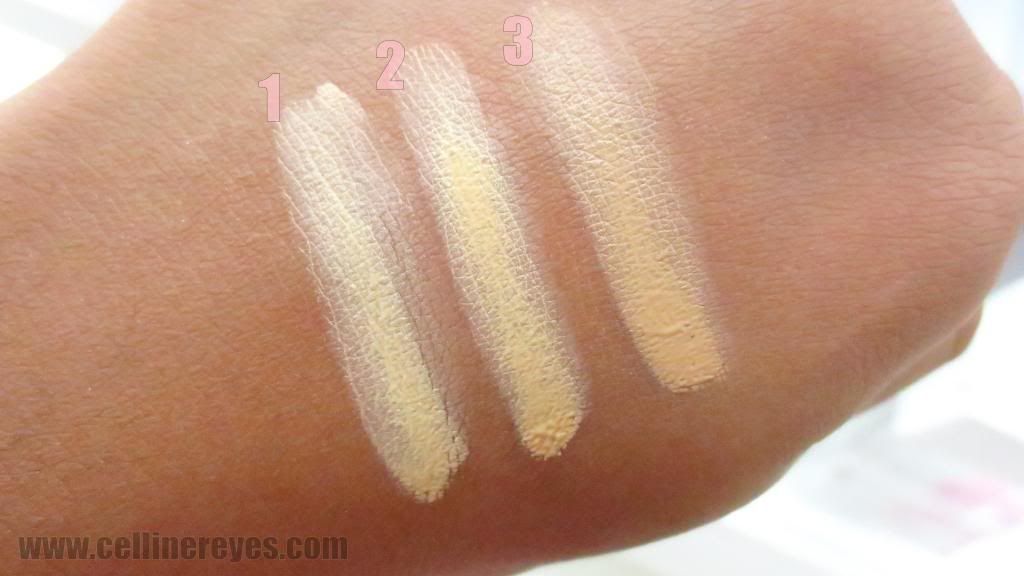 Shades 1 and 2 both have yellow-ish undertone while 3 is more on the pink-ish side.
DEAR ME PETITE BLUSHER Php 378
Petite Coral & Petite Pink
I super love the packaging! It's so dainty and girly.. very kikay. Both shades are highly pigmented and not chalky at all. I immediately noticed that they have these tiny shimmers like the ones in highlighters to fake a glowing dewy look — though the shimmers are more prominent on the petite pink than on the coral one. This is definitely a multi-purpose product for me as I often top my blush with highlighter. Talk about getting 2 products for the price of 1!
For the eyes:
BACKSTAGE PAINT EYE POT Php 448
01 White, 03 Coral, 02 Pin, 04 Lavender, 06 Olive, 06 Topaz
Before I begin to express how much this product impressed me, I would like to thank Eyah of eyanism for lending me her hand because my arm was already full from previous swatches. All for the love of makeup and blogging. LOL!
Going back to the paint pots, they're like normal cream eyeshadows with awfully rich consistency making it really thick and difficult to even out. After few minutes, Eyah tried to remove them by rubbing them with her thumb. Lo and behold! Not a single eyeshadow budged! Yes, they're 100% smudge-proof! Perfect for girls who, like me, have a nasty habit of rubbing their eyes.
And the fun part, lip products!!!
PRESTIGE CRYSTAL LIPSTICK Php 498
The clear plastic packaging is a lot like Model Own's BUT this one is thinner and looks more tacky in person compared to MO. Anyway, the lipstick itself is quite pigmented, creamy and glides on rather smoothly. It has a bit of a sheen finish too. By the way, the photo below is Ina's arm. 🙂
BACKSTAGE SURE TINT Php 448
I honestly think this one is more of a gloss than a tint. It has a fairly thin pen-like packaging that makes use the click/twist-thingy on the bottom part to dispense the product. It's sooo pigmented and the colors are beyond vibrant!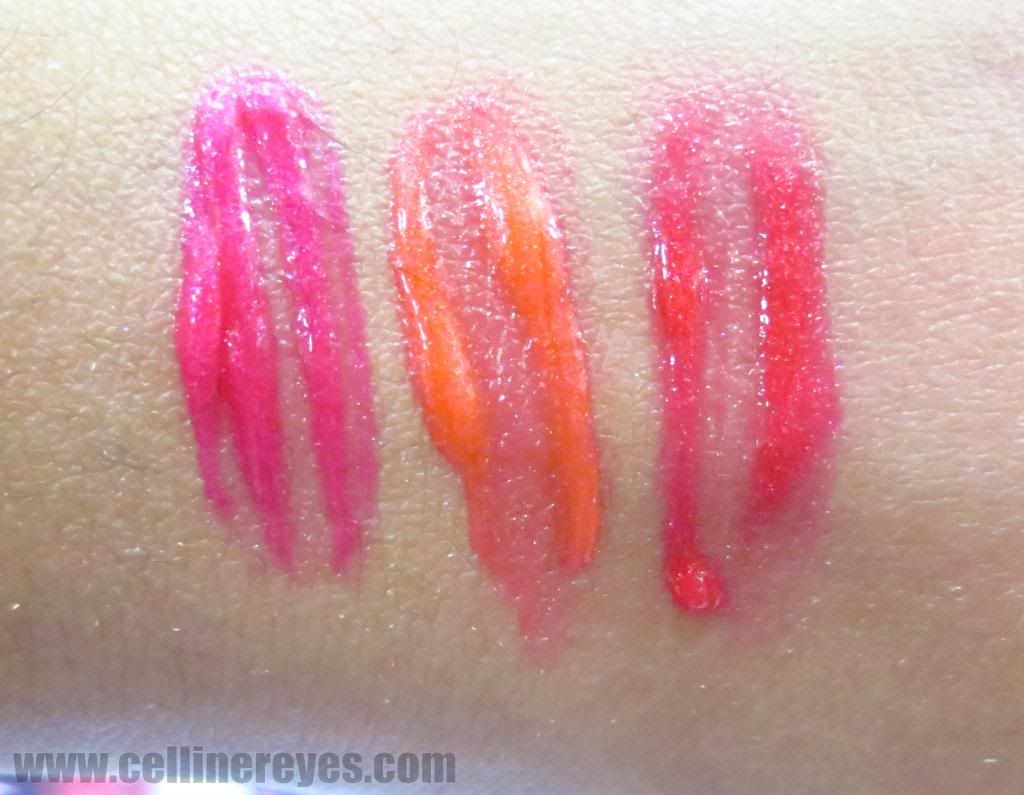 01 Pink, 02 Orange, 03 Red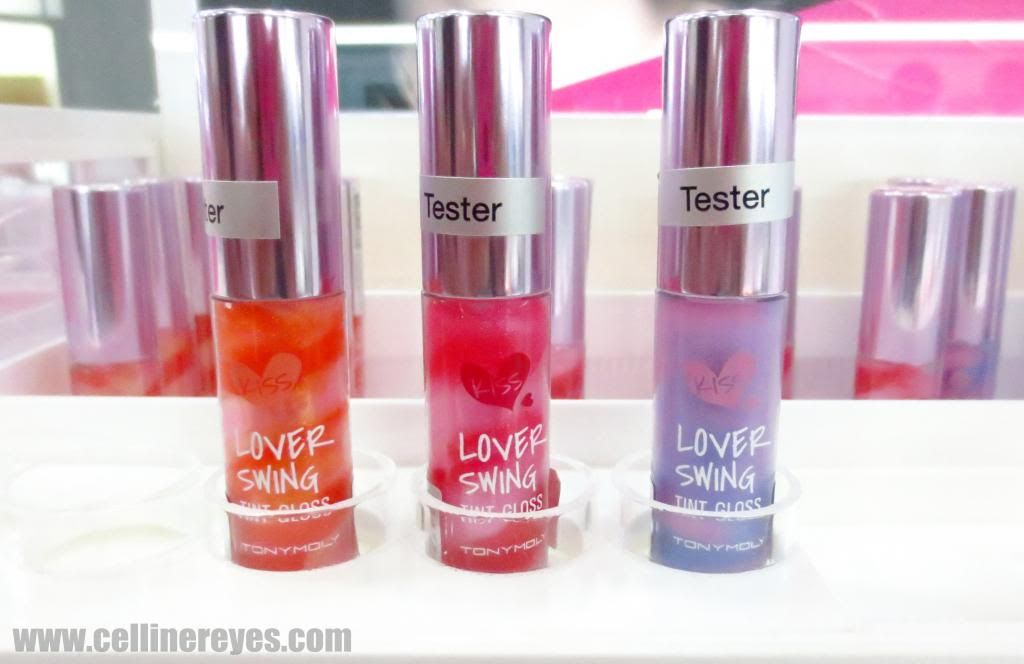 KISS LOVER SWING TINT GLOSS Php 448
Ombre is so IN right now that even lip glosses are inspired by the lovely mix of colors. When I first saw these tubes, the first thing that popped in my head was Victoria's Secret Beauty Rush makeup line. Don't ask me why because I also don't know. LOL! These 3 shades are so pretty I spent a good 5 minutes looking and swatching them. I love the fact that they have little glitters that could make thin lips look plump without making it look oily.
02 Orange Swing, 01 Red Swing, 03 Pink Swing
I think this Cat Wink line is one of Tony Moly's recently launched lines. They're really cute and handy! The glosses have a great range of shaeds to choose from. Some are opaque and very eye-catching while other are more of a clear-and-glitter kind for the shy ones. Despite the difference in color, they're all creamy and graced with a mild hint of sweetness.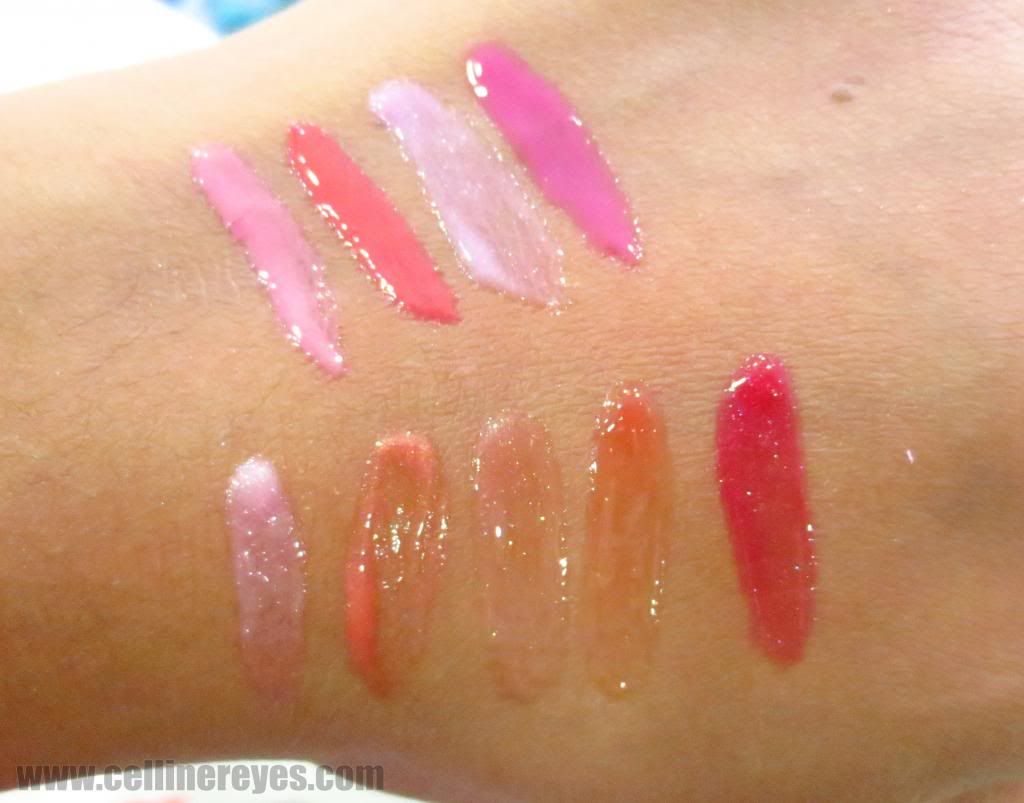 CATS WINK GLOSS Php 348
Top: 01, 04, 06, 02
Bottom: 05, 07, 08, 09, 10
And of course, my haul and loot bag from Tony Moly.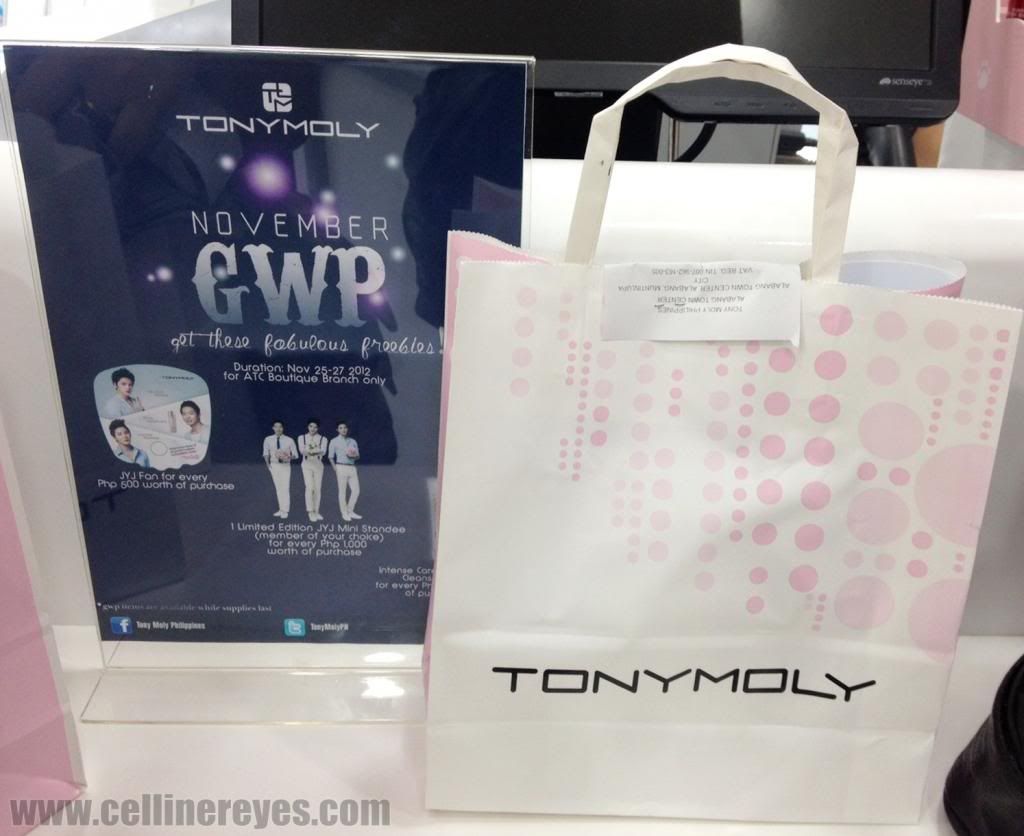 Real Lemon Juice Peeling Gel Php 378 | Floria Cleansing Tissue Php 98 | Egg Pore Nose Pack (for BF) Php 28 | Aqua Aura Emulsion, Milk Hand Cream and Floria mini kit are from the loot bag.